About Us
PST-GK is an up and coming glove company started in 2016 by its owner Andy King. Andy has been involved in goalkeeping all his life through playing and coaching resulting in a great deal of experience in using, wearing and now providing gloves.
Originally started as part of the brilliant PST company (Premier Sock Tape, please see links) the superb range of quality gloves and goalkeeping clothing are now being sold completely separately at PST-GK.
The range of gloves and equipment will provide any standard of goalkeeper with the kit that they need to Perform, Succeed and Triumph. PST-GK want to prove that you don't have to pay Premier League prices to get Premier League performance, all it takes is that leap of faith.
Perform, Succeed, Triumph Goal Keepers
---
ENDORSER'S
MARK TYLER ( Peterborough United FC )
Mr Tyler has undoubtedly earned his 'Legend ' status at his current club Peterborough United, still active as a player he is also the clubs goalkeeping coach. Mr Tyler has worn the previous PST brand in the past with pleasing results , he has now decided that the PST-GK brand is the brand for him.
Mr Tyler has given his strong approval of the new styles he has tried , with the 'RAGE' a particular favorite . He is excited to be a part of PST-GK brand and we are honored to have a man with such standing in the professional game as he giving us his support and high praise for our products.
Favorite glove = RAGE / MUTANT / GUARDIAN
---
 LIAM GOOCH
Mr Gooch is a professional goalkeeper at Luton Town FC. Even though he is still young he is considered very highly within the club as a future 1st team regular. He , like Mr Tyler got involved with PST-GK via its PST predecessor , in fact Mr Tyler during his popular stay at Luton Town got him fixed on the PST brand.
We are very proud to have such an aspiring talent like Mr Gooch sporting the PST-GK brand and look forward to positive future working together.
Favorite glove = TX / ULTRA / MUTANT
---
BETH DAVIES ( Doncaster Belles LFC )
PST-GK has known Miss Davies for many years and is proud that she has decided to use PST-GK as her glove.         Miss Davies started her career at Cambridge United Girls Center of Excellence before moving on to London            Bee's ,which is a women's super league 2 side . Recently she has joined Doncaster Belles and is currently battling to be the Welsh National teams NO.1  .
Favorite glove = TX / ULTRA
---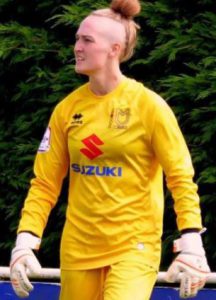 SAV SMITH (MK Dons Ladies)
PST-GK has known Miss Smith for many years and is proud that she has decided to use PST-GK as her glove. Miss Smith started her career at Cambridge United Girls Centre of Excellence before moving on to Watford FC in WSL 2 . After leaving in search of a new challenge she signed for Leicester City Ladies and is now currently playing for Milton Keynes Ladies FC in the league just below WSL 2.
Favorite glove = TX / ULTRA / GUARDIAN
---
SOPHIE POWELL ( Peterborough United LFC )
Miss Powell has been associated with PST-GK for 6 years now and we are proud to have her officially on board .She has worked her way up from girls football to her present position as an important part of Peterborough United's women's team.
Favorite Glove = TX / ULTRA
---
---
RETURNS POLICY
All goods supplied by PST-GK are from the official source and are covered by the normal manufacturer's warranty. If an exchange or a refund is required then the item / items should be returned to us in their original condition and packaging within 28 days of your purchase. Unfortunately we cannot accept a returned item that has been personalized or converted unless it has a manufacturing fault. This does not affect your statutory rights.
In all cases, the items returned must be in their original condition, which includes any packaging. All goods will be inspected on return. The goods are your responsibility until they reach our warehouse. Please ensure you package your return to prevent any damage to the items or boxes.
We will refund the monetary value of the goods returned to us, at the price you purchased them. All refunds will be for goods only; we cannot refund shipping costs unless the item was sent in error. We do not offer a free returns service, however if you return items for replacement, we despatch the replacement goods to you free of charge.
We reserve the right to refuse a refund or exchange if the goods returned are deemed to be damaged, dirty or tampered with. This does not affect your statutory rights.
Please address return parcels to:
Returns Department PST-GK
5 BRICK LANE, MEPAL , ELY , CAMBS , CB6 2AH
All orders placed through the Website are subject to PST-GK acceptance. This means that PST-GK may refuse to accept or may cancel any order, whether or not the order has been confirmed, for any or no reason, and without liability to you or anyone else. If your credit card has already been charged for an order that is later cancelled, PST-GK will issue you a refund.